The Abbey's Wines
The site was occupied during Roman times. It seems to have been a strategic position for controlling the access roads to Narbonne and the Minervois. Still designated as a castrum in the 12th century, the "castri de lengostis" has undergone many changes over the course of its history: from a priory, it was transformed into a bastide, then into a tenant farm, before taking on its current identity as an estate. We can see proof of continuous activity at Leingoust not only through the vineyards, but also the gardens, the existence of a mill on the Aude River as well as lime kilns dug in the ground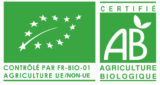 ABBAYE DE LEINGOUST
The most contemplative
AOP Minervois
Dating back to the 15th century, the historic Leingoust Abbey continued to house monks until the end of the 19th century. In the Minervoisand bordered by the Aude River and the Canal du Midi, this unspoilt environment is a Protected Designation of Origin area. The wines offer complex aromas with a good deal of finesse.
LES LAUDES DE LEINGOUST
The most epicurean
AOP Minervois
The Laudes – Latin for praises – proposes a lovely metaphor for a fruity and lightly oaked wine. It is well-balanced, elegant and harmonious.