We created Les Rives de Montrabech to offer aromatic, fresh, fruity and contemporary wines to be enjoyed at any time of the year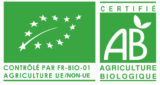 Les Rives de Montrabech
to be enjoyed at any time
Produced using the most modern methods and with total respect for nature, Rives de Montrabech is the château's commitment to a clear objective: to establish a new mode of harmonious interaction between man and nature, and to restore biodiversity to its role as a natural balancer
The wines produced by the estate come exclusively from our vines. The vines and land of Montrabech are certified organic.
On the estate, we implement a global management system which takes into account all the parameters of the living world, i.e. all the eco-systems: soil, subsoil, vegetation, animals, etc.
In addition to mixed farming, agro-forestry and agro-pastoralism, we are reducing water consumption in the vineyard and controlling energy consumption from the vineyard to the cellar, in order to considerably reduce our carbon footprint.